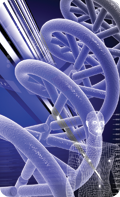 Quantum Daily Tune-Up
Quantum Therapeutics: Unique Innovation in Bio Technology
Science and medicine have come together to develop this medical device for home and professional use. The BioMat's state-of-the-art Crystal Infrared and Negative Ion technology supports and allows healing processes to occur.
The BioMat is a "pad" which lies on top of a massage table or your home mattress. It converts electricity through an EMI device (Electromagnetic Interceptor), which then passes through a computerized control panel with 9 variable heat settings, into Far Infrared Rays (FIR), and Negative Ions. These two components, Negative Ions and Far Infrared Rays, are transferred through Amethyst Quartz channels which cover the entire surface of the BioMat. Amethyst also produces naturally occurring far infrared waves. These frequencies penetrate 6 inches into the innermost recesses of the body, stimulating the healing process. This Supports the Immune System and aides the body in reducing inflammation, increases blood flow and tissue oxygenation and promotes relaxation and a restful sleep. This accelerates and deepens all healing processes.
The BioMat can be used to achieve the benefits of a sauna, allowing more customized temperature regulation without the hazards of heating the head or the negative EMF exposure commonly found in many traditional saunas or heating devices. The Amethyst Crystals promote increased conduction and absorption of FIR and Negative Ions. The BioMat represents the highest quality & comfort in a portable pad suitable for your home or clinic setting.
This technology is being used in spas and professional practitioner's offices all over the world. Physical therapists, chiropractors and acupuncturists are realizing the benefits for their clients. So start today by being proactive about your health and wellbeing. A good night's sleep or a mere 25 minute nap on the BioMat, can go a long way to ensuring that the years ahead of you will be healthier, enabling you to be more active and enjoy life's journey to its fullest!
NEGATIVE IONS for Positive Effects
Negative ions are odorless, tasteless and invisible particles that we inhale in abundance near waterfalls, rain forests and oceans. Scientifically they are molecules with an extra electron.Once they reach our blood stream Negative Ions have a positive effect.
AMETHYST CRYSTAL for Body Balance
INFRARED a High-Speed Healing Frequency
Far Infrared Heat is pure energy in the form of LIGHT from the invisible area of the electromagnetic spectrum.